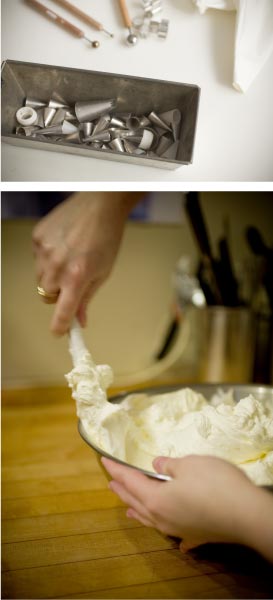 My name is Lauren Bohl White, I live in NYC, and I simply love baking cakes. Streamlined and elegant, ornate and fanciful…I adore them all equally.
It began innocently enough, cracking eggs into my grandmother's olive-green mixer while she whipped up cookies and cakes from scratch sans recipes. I didn't taste store-bought bread until having lunch at a friend's house in grade school…I thought everyone's mother baked six loaves at a time. Looking back, it's a wonder I ever did anything but bake.
And yet, my journey to creating A White Cake was a winding one. I received a degree in Interior Design from Miami University in my home state of Ohio before spending more than six years working in high-end NYC and Washington, DC design firms. Still…the kitchen called.
So, with careful consideration, I enrolled in the Institute of Culinary Education here in NYC, earning diplomas in both Pastry and Baking and Culinary Management. While in school, I worked with Public Restaurant as a pastry cook, learning the importance of efficiency, speed, and organization. And my need to address design, color, and creativity met its match when I worked as an assistant at Ruth Drennan's custom cake company. A born teacher, Ruth is the epitome of skill and patience, and her sugar flowers are exquisite in their natural beauty.
After Ruth relocated to California, I began working with Gail Watson Custom Cakes, becoming a partner with her sister company, A Simple Cake. Gail is a true icon in the wide world of cakes, and her smart, elegant creations won her many devoted fans among brides, grooms, and wedding planners alike. She shared with me her skills and business knowledge, and for that I am forever grateful.
As Gail prepares to retire from the custom cake scene, I am thrilled to be carrying on her tradition of excellence by merging together under the name A White Cake (inspired by my wonderful husband's last name, White!). I have also assumed ownership of A Simple Cake, the online cake business she created in 2009 that budget savvy New Yorkers have come to know and love.