FAVORS : Petal White Cookies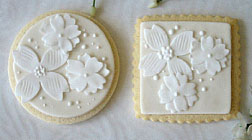 Petal White Cookies, a classic favor.
These sugar cookies decorated with delicate white blossoms are the perfect take-home treat for your shower, christening, or wedding day. Each is handmade to order, wrapped in cellophane, and delivered to your doorstep.
Square, round, or heart-shaped…
The cost is $8.50 each, with a minimum order of 25 pieces per design. Delivery is via UPS, FedEx or Priority Mail, and shipping and handling is not included.
For questions or to order your Petal White Cookies, call us at 917.513.9559 or email lauren@awhitecake.com.