KITS : Sea Shells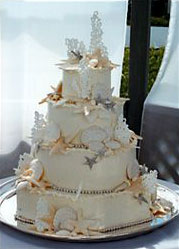 Sea Shells, a stunning cake
decorating kit.
Inspire a wave of admiration with a shimmering cakecake that captures the ocean's beauty.
Featured in magazines like Brides, Vogue, and Elegant Brides, we created this kit for intrepid brides (or their friends, or their bakers!) everywhere. Each kit contains:
A combination of opalescent candy seashells

Silver dragees

Instructions on how to make the fan coral (not included)

Assembly instructions
There are approximately 150 shells in the large kit, which serves 125 people ($425, shown here), and 100 shells in the small kit ($300). Additional shells can be purchased by the dozen:
Starfish

Large Scallop

Auger

Small Scallop

Sea Urchins

$40 doz.
$40 doz.
$30 doz.
$20 doz.
$20 doz.
For questions or to order your Sea Shells cake kit, just get in touch at 917.513.9559 or email lauren@awhitecake.com.