FAVORS : Sugar Cookies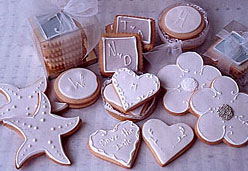 Hand cut and decorated sugar cookies are universally loved and provide a thoughtful way to comfort your guests.
Monogramming provides the right personal touch.
Monogram Cookies
Individually wrapped – $6
Boxes of 2 – $10
Boxes of 5 – $25
Oversized Flowers
Great for a bridal shower or trimmed in pastels for a baby shower.
Individually wrapped – $10
Large Starfish Cookies
Perfect way to embelish a sea side theme.
Individually wrapped – $10
Please specify color when ordering.
Minimum order is 25 pieces per design.
Each piece is made to order, final counts must be confirmed 2 weeks before ship date.
Items are shipped via UPS, FedEx or Priority Mail.
Shipping and handling charges are not included.