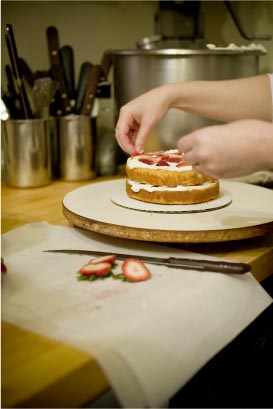 Our handcrafted cakes taste as wonderful as they look.
We offer flavors and fillings as sweet or spicy as the married couple-to-be, using only the very best ingredients.
Take a look…and if you're searching for something not on the list, just let us know. We'll find a way to create your unique flavor combination.
Tasting is believing!
Call or email to order a 6″ sample cake. For $20, we'll create your flavor combination of choice finished in buttercream with an option in fondant.
Cake Flavors
Filling Flavors
Classic Vanilla
Dark Chocolate
Chocolate Chip
Golden Yellow
Scented Lemon
Toasted Almond
Toasted Hazelnut
Espresso
Coconut
Buttermilk Spice
Carrot Cake
Red Velvet
Chocolate or White Chocolate Cream
Cappuccino Cream
Hazelnut Cream
Chocolate Hazelnut Praline Cream
Caramel Cream
Raspberry Cream
Strawberry Cream
Blackberry Cream
TriBerry Compote
Pink Peppermint Cream
Cannoli Cream
Classic Cream Cheese
Orange Scented Cream Cheese
Fruit Curd (lemon, lime, tangerine or passion fruit)
Jam (raspberry or apricot)
Fresh berries & whipped cream
Chocolate or White Chocolate Mousse
Cappuccino Mousse
Raspberry Mousse
Custom cake consultations are by appointment only, so call or email to set up a time.