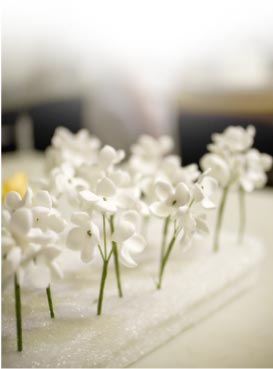 First of all, congratulations!
It is a true joy to work with people in love. Even with the inherent craziness of organizing a New York City wedding (something I know firsthand as I happily said "I do" in 2012), nothing compares to the excitement of tying the knot. It's an honor to be part of your big day, and I will do my best to make the process as easy as possible.
The earlier you order, the better
We suggest ordering 4-6 months in advance, especially if you're getting married during the April-June or Sept-Oct wedding seasons. Is your event within four months? Give us a call. We'll do our best to create your dream cake within your timeframe.
Can't decide on the flavor?
We totally understand. (They're all so good!) But never fear. You can order the cake you want now, and choose your flavor and filling anytime up until two weeks prior to the event.
Pricing and payment
The first step is to sit down together to discover your vision of the perfect cake. Once we find the right design, we'll calculate the price based on complexity and number of servings, starting at $9 per serving with a $500 minimum. A 30% non-refundable deposit will secure your order, with the final amount being due two weeks prior to the event. Payment options include cash, check, or credit card.
Delivery on the big day
We deliver our freshly baked, never frozen cakes within a 100-mile radius of Columbus Circle. Charges apply, and we will coordinate with you and your venue to arrange delivery within a convenient time frame.
Get in touch!
Ready to set up a consultation? Give us a call at 917.513.9559 or email lauren@awhitecake.com